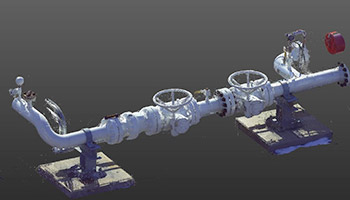 Hanover Engineering provides cost-effective 3D laser scanning services for a variety of clients owning and operating facilities, as well as those in the mechanical, civil, and structural engineering professions, to meet their project specific measuring and mapping needs.
3D laser scanning can capture up to one million data points per second, achieving an accuracy that rivals, or exceeds in most cases, traditional surveying. The precise detail obtained through 3D laser scanning, not possible with traditional survey techniques, provides viewable and measurable information that is as reliable and effective as being on site. The process produces a realistic 3D view of the project allowing the designer to create and insert new components, see conflicts, and prepare construction plans in accurate detail. This allows for prefabrication of many components and limits costly field modifications. Also, capturing data with the 3D laser scanner can reduce the need for return trips to the project site, often required when using traditional survey methods, to obtain additional information or locate additional features.
3D laser scanning enhances safety by obtaining measurements from a safe distance or location without having to put someone in a dangerous environment. The technology can measure objects from only a few feet to hundreds of feet away without a human having to physically make contact with project objects. Laser scanners can also be used to limit entry into confined spaces.
Project deliverables are customized to the needs of the client. Hanover Engineering can provide a point cloud of the 3D scanned project that lets the client view and measure objects. We can also provide a 3D model that allows the client to simply design and insert components. The ability to customize deliverables allows the client to only contract the services needed for their specific project.
Whether you are documenting existing conditions, retrofitting a pipe fitting, remodeling a building, or designing a new bridge, 3D laser scanning will save you time and money.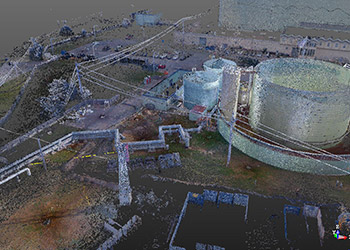 Areas where laser scanning can be utilized:
Oil and gas industry
Wastewater treatment plants
Architectural applications/design
Historical documentation
Sprinkler system design
Power plants
Substations
Utility lines
Bridges
Accident investigation
Tank deformation analysis
Stockpile/quarry volume analysis
Overhead clearances
Demolition documentation